An Animated Subject
This article by Denzil Howson was written circa the year 2000.
The production of animated films in Australia has had a chequered history.
Before 1958 there were spasmodic and limited animation facilities in Australia. Cambridge Films in Box Hill (Melbourne) had limited animation facilities and were producing a relatively small amount of animated film production.
But in 1958 a company called John Wilson Productions, specifically equipped to produce animated commercials or short animated features, was established in Melbourne as an ancillary operation to GTV9. They were based as Channel Nine's studios in Bendigo Street, Richmond.
The nucleus of the personnel at John Wilson Productions came from Hollywood, either from the Disney organisation of from the Fleisher (Popeye) Studios. Their locally trained chief animation or rostrum camera operator was a former still cameraman, Victor Anastasi.
John Wilson Productions eventually became Fanfare Films, and extended their operation into the production of live commercials as well as animated subjects. One of their leading cameramen was Mike Browning, an ex-projectionist who had gained for himself a reputation as an artistic and creative operator.
Mike was assigned many varied tasks as senior cameraman, but probably among the most unusual was the unique task of "breathing" cinematic live into a manikin or inanimate figure.
This is the story of that task.
In the Steps of Pinnochio — The Australian Film Career of a Living Doll
In 1940, Walt Disney adapted Carlo Collodi's fantasy Pinnochio. With the flexibility and limitless capabilities of animation, it was reasonably simple to breathe life into a puppet, and transform a wooden figure into a real boy.
Twenty years later when Fanfare Films of Melbourne in association with GTV9 wanted to achieve almost the same transfiguration, the task presented a different set of problems.
In 1960 one of the stars of Australian television was a ventriloquial doll called Gerry Gee. Ron Blaskett was his mentor. Such was Ron's incredible skill and creativity as a ventriloquist that many younger viewers regarded Gerry Gee as a real person.
To heighten this illusion, we planned a series of filmed dramas — ripping tales, "Boy's Own Annual" type stories — with Gerry Gee as the intrepid hero. Each story was planned to run about half an hour. Filming would be by Fanfare Films. Production, scripting, set design, costuming, etc. by a Channel Nine team.
The big problem was how to separate Gerry Gee from Ron Blaskett, so they became un-related entities. Also, as an adventure hero, Gerry had to be able to walk, leap high buildings, and so on, like any juvenile hero.
After toying with the idea of casting Gerry purely as a narrator to each adventure — obviously a "second best" solution — we decided on a concept which we believed to be an original technique. Certainly the BBC's "Archie Andrews" and America's "Charlie McCarthy" had never been portrayed in the way we devised for Gerry Gee's adventures.
We employed a ten year old lad, John Field, to be Gerry Gee's alter ego, and dressed him in clothes which were slightly larger, but otherwise identical to Gerry Gee's clothes. The Props Department designed and moulded a latex rubber mask duplicating Gerry Gee's features. On a hot day it was a hellish thing to wear, but young John Field was a real "show-biz" trouper. He never uttered one word of complaint.
Using John as Gerry Gee for long shots, and reverse or rear shots, and by filming the real Gerry Gee with Ron Blaskett out of frame, but still able to manipulate, and do the voice, and with creative and clever editing, the illusion was complete. Now Gerry could apparently do anything that a normal adventurous boy could do, but at the same time retain his unique personality.
Roll Camera, Sound and…Action
The stage was set for Scene One, Take One of "The Adventures of Gerry Gee".
During the next twelve months we produced thirteen half hour adventures in which Gerry Gee flew an aeroplane, passed a vital message to the driver of a speeding steam train (thus saving his friend Ron Blaskett, collapsed on the railway tracks, from a horrible fate), un-masked a villainous trapeze artist, rescued several fair maidens, assisted in the capture of a gang of counterfeiters, and drove a Cooper Climax racing car to victory in a Grand Prix at Phillip Island.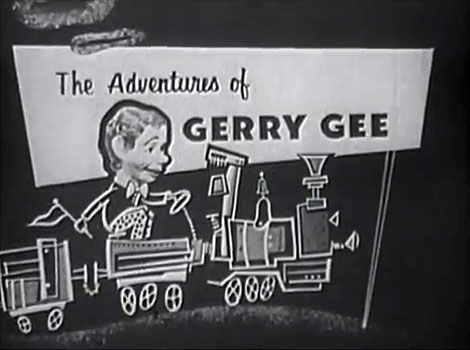 Plot Research
When we ran out of original plots, we pinched some that had been devised by other and more famous writers.
In the film industry, this is called "Plot Research", and resulted in "Tarzan Gee" and "Ali Gee" (originally there were 40 thieves. We could afford only one!), "Gerry Hood" with a secluded glade in the Melbourne Botanic Gardens doubling as Sherwood Forest. (The sound of the trams in Domain Road posed a slight problem. Not many trams in Sherwood when Robin and Maid Marion were in residence.)
Another period adventure was titled "Pimpernel Gee" with character actor Frank Rich as the scheming and cruel Citizen Chauvelin. Remember, these films were children's fare, so occasionally we had to amend some of the traditional dialogue. The 1934 Alexander Korda "Scarlet Pimpernel" has Leslie Howard as the Pimpernel reciting with exquisite nonchalance:
"They seek him here,
They seek him there,
Those Frenchies seek him everywhere,
Is he in heaven or is he in hell,
That damned elusive Pimpernel"
We couldn't say "damned" or "hell" in a film for young people, so Gerry Gee as the Pimpernel recited with equal insouciance:
"They seek him here,
They seek him there,
Those Frenchmen seek him everywhere,
Oh who and what and where is he,
That elusive fellow Pimpernel Gee"
Bear in mind that these were professional productions, technically of a high standard, and the casts were a cross-section of the top actors and personalities then available in Melbourne. People like Ormonde Douglas, formerly leading man opposite Gladys Moncrieff, Sydney Conabere, Rosie Sturgess, Earl Francis, Frank Rich, Horrie Dargie, Susan-Gaye Anderson, British character actor Philip Stainton (an Ealing Studios stalwart), Ken Warne, Neville Thurgood, Frank Holbrook, Alf Gertler (Bernard the Magician), Elaine McKenna, Penny Loveday, Bren McGee, Ernie Carroll and Hal Todd. Add to that Gerry Gee's alter ego John Field, and of course Ron Blaskett.
The series represented also the work of Fanfare Films senior cameraman, Mike Browning, and the set designing and construction skills of Channel Nines top artisans.
We believed The Adventures of Gerry Gee were unique in concept and we were proud of our efforts.
Interstate Distribution
The film series "The Adventures of Gerry Gee" was shown on television in Melbourne, Sydney and Perth.
Forty years on, it would be a nostalgic journey to see them today, to discover how good or bad they were. But, unfortunately this is not possible. After we had screened them in Perth circa 1966/67, the entire package was returned to the Nine Network in Melbourne or Sydney, and nothing has been seen or heard of them since.
I fear that rather than finding storage space, someone may have decided that it was much simpler to consign them to the nearest rubbish bin or incinerator. "After all, they were only kid's films" — a sentiment expressed more than once when both Ron Blaskett and myself made fruitless attempts to find them. The fact that they were a filmic record of a unique experiment in Australian show business and possible a world first in concept was unimportant.
We received the definitive answer to our endeavours, the incontrovertible and final word on the subject, when an executive, tired of our on-going searches, gruffly uttered, "Listen mate! We're interested in the future, not the past!".
End of story!