Pioneering Children's Television
in 1957
Television Comes to Melbourne
In 1956 television came to Australia when Channel Nine in Sydney and Channel Seven in Melbourne began a series of test transmissions.
In August of that year, Colin Bednall, General Manager of Channel Nine in Melbourne, interviewed me as a result of my letter to him. He offered me the position of Assistant Programme Manager, working as a back-up to Norman Spencer, who was Programme Manager.
I commenced work at the Bendigo Street studio complex on the 3rd of September 1956.
"Studio complex" is not a very accurate description of Channel Nine as it was then. There were eight other people on the staff at the time.
We were all working in an old tin shed just inside the main gate to what had been, until a few weeks earlier, the Heinz Tomato Sauce factory. Prior to the Heinz occupancy, it had been the Wertheim Piano factory.
There were not many vestiges of the Wertheim era when we moved in, but the pungent effluvium of tomato sauce hung heavily in the air for months after we commenced operations.
The hazards were numerous in those early days — worn stairways, rotting floors and not much security, so it was understandable that it would be four months before the building could be transformed into a modern television station. That was the job of the building contractors and our engineering staff.
Those of us in the programme department had other things to worry about — devising programmes and finding talent to present them, whilst the minuscule sales staff had the job of finding sponsors willing to sponsor these as yet untried and untested concoctions which we had devised.
January 1957 — Launch of The Happy Show
Norman Spencer had handed me the task of producing the children's programme, which was to go to air Monday to Friday from 5.00pm to 6.00pm.
By this time, we had added to our workforce. The young ventriloquist whom I had met at the Heidelberg Military Hospital thirteen years previously had joined us.
Ron Blaskett had just taken delivery of a new doll, carved by the same man who had created Charlie McCarthy for Edgar Bergen.
Ron's new figure was christened "Gerry Gee of G.T.V."!
Happy Hammond had joined the team, and our children's programme was to be called the "Happy Show" — with the old United States depression popular hit "Happy Days Are Here Again" as the theme tune.
The wonderful Margot Sheridan, pianist and accompanist extraordinaire, joined us and we welcomed Ernie Carroll, a cartoonist and versatile all-rounder as part of the team.
The "Happy Show" first went to air from Channel Nine on the 21st January, 1957. The station had been opened just two nights before, on the 19th January, by the popular Governor of Victoria, Sir Dallas Brooks.
For the first few weeks we were producing the children's show from a basement window of the Myer Emporium in Lonsdale Street. We had our Outside Broadcast Van parked in the Myer basement.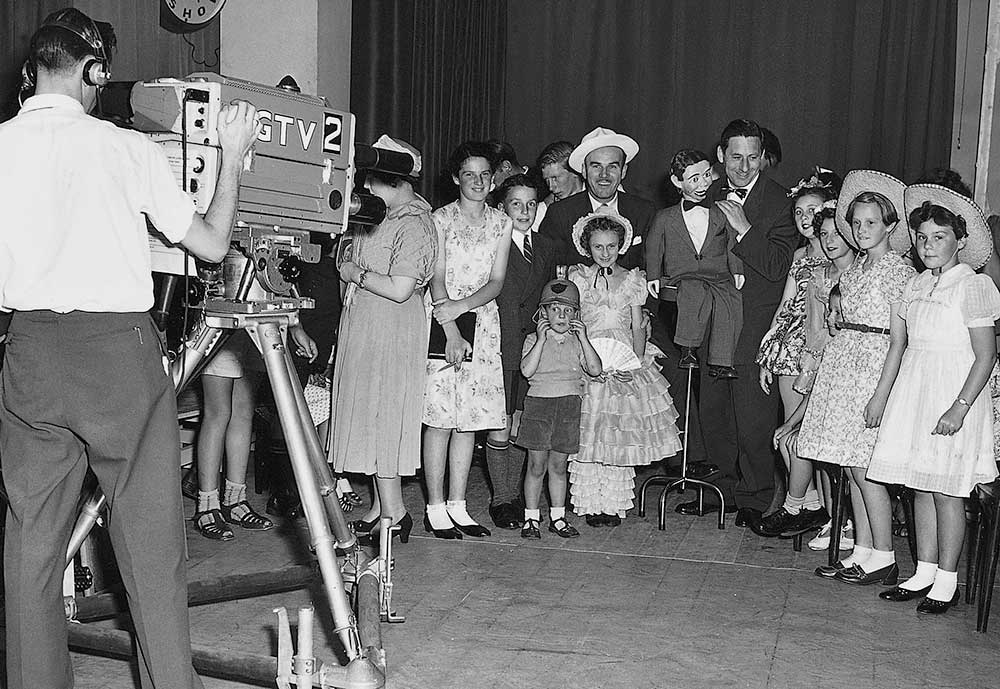 A regular who appeared on the "Happy Show" from time to time and who was in our first programme was country and western singer Stan Stafford, whose repertoire was not extensive but good kid's fare. We heard frequently about the "Little Old Lady Who Swallowed a Fly", "Rudolf the Red-Nosed Reindeer" and that desirable "Home On The Range" — but Stan was a likeable fellow who worked well with our juvenile studio audiences. He was a paraplegic — the result of a spill from a horse during a training gallop. At the time he had a promising career ahead of him as a successful jockey.
The children's programme, sponsored by the Tarax Drinks Company, quickly caught on with the kids, thanks to the likeable and irrepressible personality of Happy Hammond, and the brilliance of Ron Blaskett, who very quickly established Gerry Gee as one of the major stars of the show.
Within a few months we had added two lovely ladies to our complement — Susan-Gaye Anderson and bubbling songstress, Elaine McKenna.
During the life of the Children's Show there was no doubt that, so far as audience appeal was concerned, no-one could match Gerry Gee.
Happy Hammond, Geoff Corke (Corky, King of the Kids), Prof. Ratbaggy (Ernie Carroll, and on occasions myself), Joff Ellen (Joffa Boy), Susan-Gaye Anderson, Elaine McKenna, Bernard the Magician, Sloppo the Clown (from the Moscow Circus), Norman Swain (Uncle Norman) and even Ron Blaskett all played second fiddle to Gerry Gee.
Not everybody was overly happy about this. One well known personality was once heard to say, "I'm not complaining mate, but how long do I have to go on being upstaged by a log of wood!"
But such was Ron's skill as a ventriloquist that everybody recognized, albeit reluctantly in some cases, that Gerry was the star personality in the show.
And those of us on the production team for the Children's Show (The Happy Show, The Tarax Happy Show, The Tarax Show, The Gerry Gee Tarax Show — call it what you will) did our utmost to promote the image of Gerry (that log of wood).
The Adventures of Gerry Gee
One of our more successful ventures was a series of adventure stories, called "The Adventures of Gerry Gee". These were a series of "ripping yarns", "Boys Own Paper" type stories — full of action and excitement. They were shot on 16mm film.
Now you might wonder how we could produce a series of action adventures with a ventriloquial dummy as the hero.
After toying with the idea of casting Gerry purely as a narrator to each adventure — obviously a "second best" solution — we devised a technique which I am certain had not been tried anywhere in Australia, and possibly nowhere else in the world.
By using a ten year old boy (John Field), dressing him in similar clothes to Gerry Gee and providing him with a latex rubber mask duplicating Gerry's features, we were able to have Gerry Gee walking and running and doing anything else that a normal adventurous boy can do.
We would then cut to close-ups of the real Gerry Gee for dialogue shots, very often framing Ron Blaskett out of the shot so that Gerry could apparently be talking to someone else, without Ron being anywhere in the vicinity.
The technique seemed to work well.
We produced a number of these adventure stories — each story of three to four episodes and each episode of about five or six minutes duration.
Again it fell to my lot to write and direct these little epics, and from time to time, in addition to our own personalities, we used some well known performers in key roles — people like Ormond Douglas, Sid Conabere, Earl Francis and English character actor, Philip Stainton, who at the time was playing the lead in "Witness for the Prosecution" at the Princess Theatre. Behind the scenes the crew included Fanfare Films senior cameraman, Mike Browning, and the set design and construction skills of GTV9's top artisans.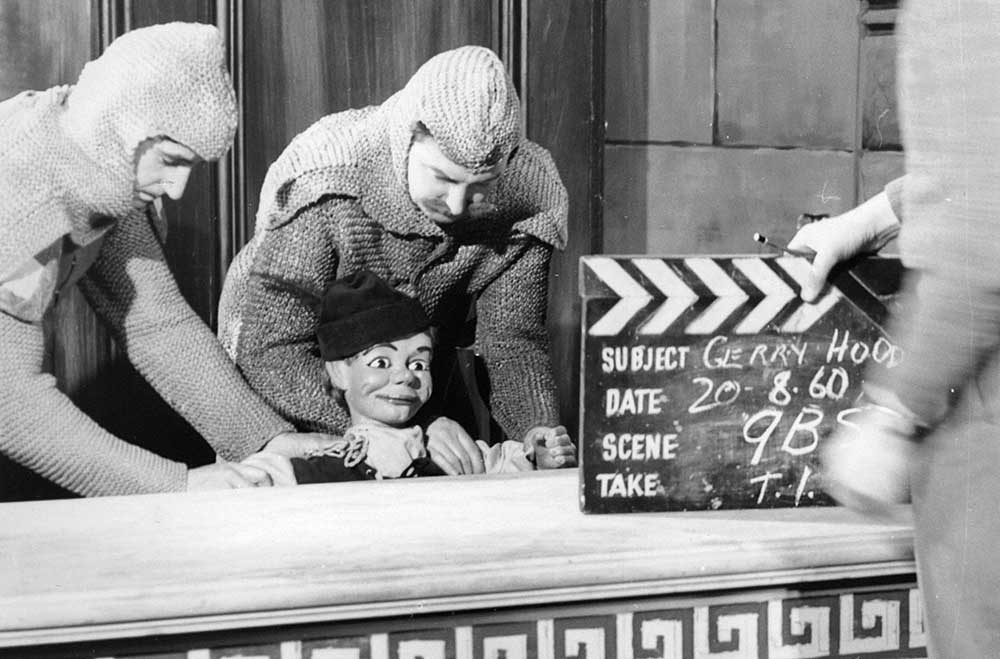 When I ran out of ideas for original plots, we researched (or stole) plots from other sources.
For instance we produced "Gerry Hood", in which a glade in the Melbourne Botanic Gardens sufficed for Sherwood Forest, and Ormond Douglas played the wicked Baron who had incarcerated Susan-Gaye in his castle.
Naturally, Gerry Hood won the day — and the girl.
"Ali Gee" was an Arabian Nights theme, with Philip Stainton — fresh from a role in "The Lady Killers" for J. Arthur Rank — as the wicked Caliph who had captured the fair Susan-Gaye.
Poor Susan was always being captured or incarcerated.
The same thing happened to her in "Pimpernel Gee", where the wicked Citizen Chauvelin (who looked and sounded very much like Frank Rich) had her imprisoned in a cell in Paris. Once again, Gerry Gee, alias "Pimpernel Gee", was able to rescue her and together they sailed back to England in a three masted square-rigged sailing ship on the lake in the Melbourne Botanic Gardens. (The square-rigger was all of three feet long. This beautiful model ship partly sank in the Botanic Gardens lake, but fortunately about three seconds after we got our final shot!).
The 1934 Alexander Korda "Scarlet Pimpernel" has Leslie Howard as the Pimpernel reciting with exquisite nonchalance,
"They seek him here,
The seek him there,
Those Frenchies seek him everywhere,
Is he in heaven or is he in hell,
That damned elusive Pimpernel"
We couldn't say "damned" or "Hell" in a film for children, so Gerry as the Pimpernel recited with equal insouciance,
"They seek him here,
They seek him there,
Those Frenchmen seek him everywhere,
Oh who and what and where is he,
That elusive fellow Pimpernel Gee?"
All this activity was going on around 1960–1961, a mere four years after the introduction of television to Australia — a time when television was still something of a novelty and people were willing and anxious to be part of it.
For instance, when we produced "Big Circuit", a motor racing story in the series, Australia's Champion Racing Driver of the year, Bill Patterson, was happy to play a lead role and provide his Cooper Climax car for the racing sequences, all at no cost.
When we produced "Gerry Flies Through", Mrs McKenzie of the McKenzie Flying School at Moorabbin Airport supplied us free of charge with an Auster aircraft and a pilot to fly it for a whole day. She was a great Gerry Gee fan.
For the same film, we needed a steam locomotive which had to screech to a halt inches from Ron who was injured and laying helpless on the track.
This time it was the Railway Workshops at Williamstown who came to the party at no cost — and supplied not only a locomotive, but a driver as well to make the thing move and exude clouds of steam.
The great "Schnozzle" Durante once exclaimed in a song the immortal phrase, "Everybody wants to get into the act!". The same thing could be said about Melbourne folk when it came to appearing on T.V. with Gerry Gee.
We believed The Adventures of Gerry Gee were unique in concept and we were proud of our efforts.
So … what happened to "The Adventures of Gerry Gee"?
Well, after the series was shown on Perth television in 1966–67, they were returned to Channel Nine in Melbourne, and virtually disappeared off the face of the earth. I fear that some space-saving executive — not aware that the series was unique — ordered them to be consigned to the nearest incinerator.
Only a few stray reels remain — most of them without their accompanying sound tracks.
Around the World With Gerry Gee
Fortunately the same fate did not befall another unique series — "Around the World With Gerry Gee". These were a series of short travel films featuring Ron and Gerry as they toured England, France, Belgium, Holland, Germany, Luxembourg, Switzerland, Italy, India and Singapore.
They were filmed in 1962. I was the cameraman. They were shown on a number of television stations in Australia.
The entire operation was a two family safari — Merle Blaskett accompanied Ron and our family of four went along — myself, Dot, Paul aged eight, and Clare aged six. We were away for six weeks.
Air India supplied the air travel and the Ford Motor Company provided us with a car in which to tour Britain and the Continent. All Air India and Ford got in return were a few "on air" mentions. It wouldn't happen today. Contra deals like that disappeared some years ago.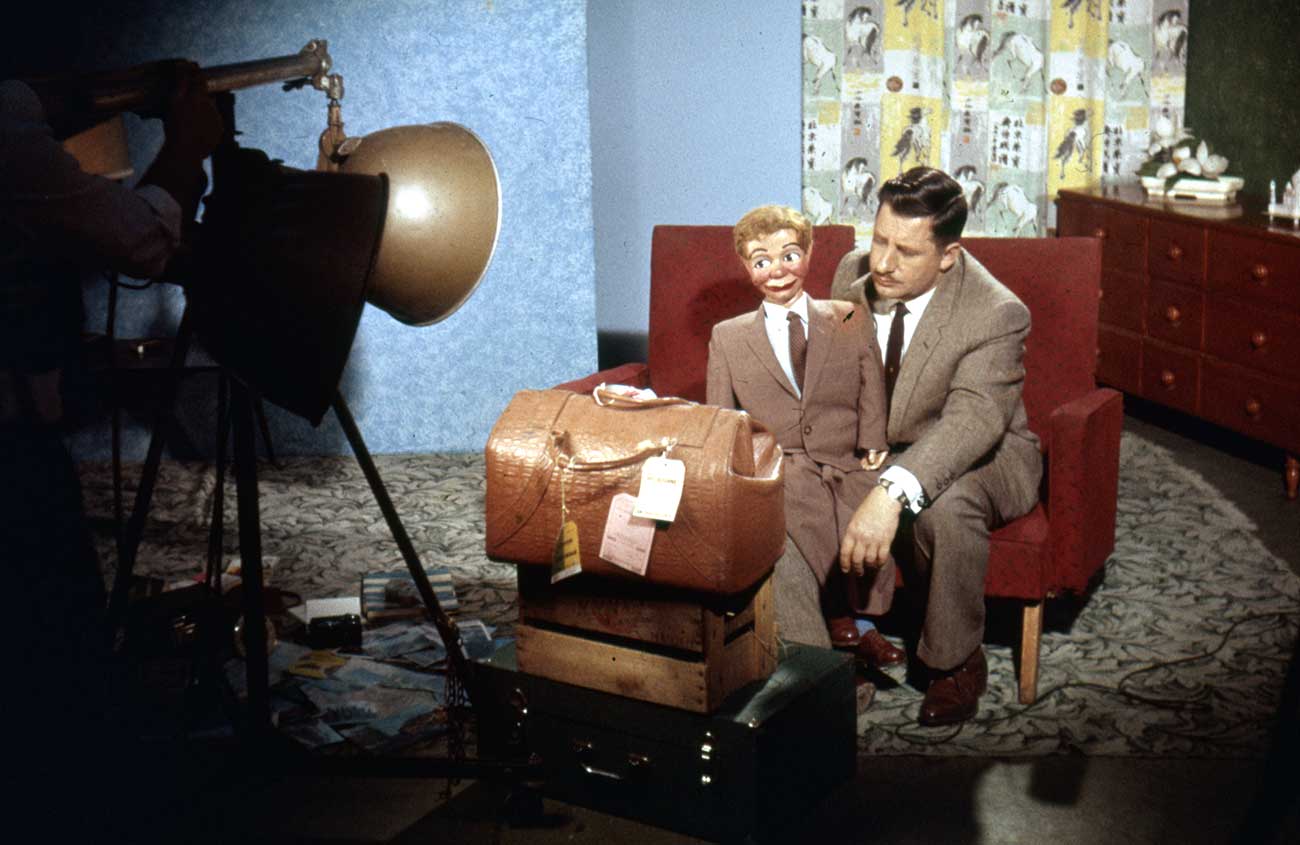 The Channel Nine Pantomimes
My association with the Children's Programme at GTV9 resulted in a series of events and associations I regard as the highlights of my whole working life.
As Christmas 1957 approached, I thought it might be a worthwhile addition to our Children's programming to produce an end of the year special — we called it a pantomime.
As I was producing the "Happy Show", the only person I had to convince of the value of such an idea was myself.
Those of us working in the children's area — Happy Hammond, Ron and Gerry, Margot Sheridan, Susan-Gaye Anderson, Elaine McKenna and Ernie Carroll — were fortunate in that we had a reasonably free rein in what we did.
Normal Spencer, Nine's Programme Manager, was fully occupied with In Melbourne Tonight. Colin Bednall, the General Manager, had his time fully occupied running the station and trying to defeat Channel Seven in the ratings race.
(Yes. Even back in those pioneering days, "ratings" were the great God that everybody, from the lowliest cleaner to the Chairman of the Board, worshipped.)
The Children's Show was fortunate in having a loyal backer in Tarax — and so long as Tarax showed no sign of withdrawing their support, station management left us largely to our own devices.
So in December 1957 we embarked on our first pantomime.
Princess Joybelle, 1957
I wrote it. It was terrible. It was called "Princess Joybelle". Princess Joybelle was an attractive eleven year old, Diane Thorington. We thought she was fourteen. If we had known she was eleven, or rather, if the Child Welfare Department had known she was eleven, we could not have used her.
I wrote some almost un-sing-able lyrics for the songs in the show, and Margot Sheridan, with her consummate skill as a musician, wrote the music.
The cast included Happy Hammond, Ron Blaskett and Gerry Gee, Bernard the Magician (Alf Gertler, a tower of strength in the show in his regular weekly "Magic Spot"), Stan Stafford, Eric Pearce, and a very unrehearsed junior "ballet" provided by the Eugene Utassy Ballet School.
Ernie Carroll was cast as the King, father of Princess Joybelle, but he took ill on the day before and I had to play the part myself.
We had another hurdle to overcome. Ron and Gerry were being hired out to various shops to make personal Christmas appearances, and Ron had not had the time to learn his and/or Gerry's lines.
So he pinned his script on Gerry Gee's back, hoping that he would be able to read it without too much trouble or it being obvious what he was doing. But unfortunately as another successful writer, Robbie Burns, once observed "the best laid schemes of mice and men gang astray" and when it came to the crunch, Ron was not able to quickly find his "lines" on Gerry Gee's back, and there were long pauses in the dialogue whilst he searched the script — pauses which Happy Hammond valiantly filled with inspired ad-libs which had very little to do with the plot.
Add to that the fact that I was most unsure of my lines, as I had never intended to be one of the cast, and the junior ballet performed with all the assurance and finesse of a group of chooks battling a high wind — and you can understand that the entire enterprise was a debacle.
But to give him his due, Colin Bednall our G.M. was kind enough to walk all the way from his office down to the studio to tell us that it was a wonderful effort.
In those days everything went to air live, although a kinescope was made of it for archival purposes, and to enable us to re-live our mistakes.
We knew, in our minds, that we couldn't do worse. We could only do better — which we did!
Sleigh Bells, 1958
Our 1958 effort was called "Sleigh Bells" and it was a decided improvement. It was notable for a "gaffe" or "blooper" by Gerry Gee.
Part of the plot entailed Ron and Gerry and Elaine McKenna venturing out into the snowy wastes of the north pole to track down the villain Bernard the Magician who had stolen the rocking-horse paint from Santa's workshop.
They spied Bernard mixing up some horrible brew in his cave hide-out, but were careful not to be seen.
When they returned to Santa's Workshop, Santa (Jack Little) asks, "Did you find him?" and Gerry Gee has to answer, "Yes! We could see him, but he couldn't see us!", but in the heat of the moment Ron had Gerry say, "Yes! He could see us, but we couldn't see him!".
That played slight havoc with the plot from then on.
Merry Make-Believe, 1959
In 1959 we produced "Merry Make-Believe", and this time Alf Gertler was not the villain. He was a kindly magician who transports our team (Ron, Gerry and Happy) to "Merry Make-Believe".
This was an appropriate character twist, as a more kindly and generous person than Alf Gertler it would be difficult to find.
"Merry Make-Believe" had an ambitious setting. We installed a canvas pool measuring about 9 metres by 9 metres in the studio, and our intrepid heroes had to traverse this pool in a small boat to reach "Merry Make-Believe". Unfortunately, with a full load aboard — Ron and Gerry, Happy and Jack Little, playing the role of a miserly old Uncle — the boat tended to scrape on the bottom of the pool and capsized once.
This prompted Jack Little to proclaim loudly from that point on, "I'm not going to get in that goddam rotten boat again!"
But he did. Jack was a true professional — a fact which he announced to all and sundry on numerous occasions.
Another side-light to the pool setting: In order to make it look mysterious, we needed ghostly fog to be rising from it. This was easily achieved by dropping dry ice into the pool. But dry ice is dangerously cold and must be handled with care.
Max Morrison, chief mechanist and in charge of settings, performed beyond the call of duty on that day. He spent several hours wandering around in the pool, bare-foot, dropping copious quantities of dry ice into the water. He feet must have been frozen, but he never complained.
Dick Whittington, 1960
Our 1960 pantomime was Dick Whittington — and this time, in addition to Gerry Gee, we had another puppet in the cast.
The role of Dick Whittington's cat was played by "Candy Cat", a marionette who appeared regularly in the children's show.
The Magic Mirror, 1961
Christmas 1961 saw "The Magic Mirror". This was a story set in London of the 18th Century, and was the pantomime debut of a very talented young lady — Patti McGrath — as our heroine.
By this time, word had got around that the end of the year pantomimes were fun to be in, and we had no shortage of talented performers wanting to be part of something other than an under-rehearsed comedy sketch on In Melbourne Tonight.
So in "The Magic Mirror", in addition to our lead personalities, we had Alan Rowe, Rosie Sturgess, Jack Bowkett, Frank Rich, and a wonderful Junior Ballet trained by former lead dancer in the station's senior ballet, Valmai Ennor.
When Valmai unfortunately broke her ankle during a ballet routine, her dancing days were over. She then turned her attention to forming and training a junior ballet for the children's show.
The Golden Princess, 1962
Our 1962 pantomime was an Arabian Nights type fantasy, called "The Golden Princess", with top-line Australian actor Frank Wilson. We also cast Ken Warne (ex 3YB personality), Frank Rich, Alan Rowe, Patti McGrath and Joff Ellen.
A Melbourne journalist of the time was kind enough to write "The Golden Princess was a smooth presentation of just the sort of fantasy panto-story that all children up to 75 enjoy".
Marianne, 1963
But we hit the jackpot with our 1963 pantomime, "Marianne", set in the tiny Swiss village of Tiefencastle. This was the final pantomime produced by Channel Nine. Apart from Patti McGrath, two other stars of the show were Ormond Douglas, former leading man with Gladys Moncrieff, and Frank Wilson.
"Marianne" was shown on an Australia-wide network of fourteen television stations.
Producing the Pantos
Once on the studio floor, the pantos were directed by top Channel Nine director, Russell Sefton.
They were fun, and we were fortunate in the fact that the costs of production were conveniently hidden in general overhead expenses. We never knew or worried how much they were costing, and as mentioned earlier, the front office were not terribly interested in what "the kids' show mob" were doing.
It was an indication of Ron Blaskett's genius as a ventriloquist and Gerry Gee was such a star in his own right, that no-one ever queried the bizarre fact that Gerry was always the hero in these shows, and always won the hand of the beautiful heroine, Patti McGrath.
Apropos of that, I heard Bert Newton say recently that in those days, Gerry Gee was his greatest rival, because Patti was engaged to Gerry no less than three times!
End of a Pioneering Era
I resigned from GTV9 at the end of 1963 to take the position of Programme Manager at AMV4 Albury.
"Marianne" was the last panto, because no-one else on the Channel Nine staff was silly enough to take on the task of writing and producing them.
So with the production of "Around the World With Gerry Gee" and our 1963 Pantomime, "Marianne", my time at GTV Channel Nine drew to a close.