My Life as Gerry Gee's Double
I was born in 1949 and grew up at 48 Belgrave Road, East Malvern (now it seems to be fashionably called Malvern East). We lived next door to the Howsons — Denzil, Dot, Paul and Clare. As children we roamed the neighbourhood, exploring each other's backyards and the hidden treasures they contained.
The Howson's was a place of particular delight — they had a movie theatre complete with film projectors and a whole studio full of exotic and marvellous radio and recording equipment — it was a place of wonder and definitely not to be touched by us children.
I remember a number of screenings in the theatre and watching Denzil "doing stuff" in his studio. Paul and I caught the performing bug and I seem to remember several puppet shows and other child games based around imitating Denzil's performances and radio activities.
Radio was the medium then — as kids we grew up listening to shows such as Hopalong Cassidy, The Lone Ranger, Dad and Dave, and many more. Our image of the world and our imaginations were formed and fostered by these wonderful stories, voices and sound effects.
The Coming of Television
In 1956 a lot happened — Melbourne hosted the Olympics and television broadcasting started. Not many people had TV then — I remember the only person in our family with TV was my Grandmother and it was a special treat to go and watch anything on this new black and white wonder. I also recall, as a seven year old, standing in front of the local electrical store, mesmerised for hours watching the Olympics on the TV running in the store window. I would eventually be collected to come home for a meal.
By about 1959 our family had acquired both a TV and a car (Holden FJ). The first show we watched was "Father Knows Best". Coming home from school now included watching children's TV shows — American television versions of some of those wonderful radio shows, a few Australian creations and this particular wonder called the Tarax Show. Tarax was the soft drink of our time, a local brand, and the source of extra pocket money as each empty was I think worth thruppence. The Tarax Show was presented live every weekday on GTV9, initially hosted by Happy Hammond and featuring a whole range of characters such as Gerry Gee and Ron Blaskett.
Along with these developments and the emergence of GTV9 as the power in Australian television was the vague knowledge that Denzil, our next door neighbour, was mixed up in all this and even played the part of Professor Nitwitty in the Tarax Show. My parents were keen watchers of "In Melbourne Tonight", which featured the amazing talents of Graham Kennedy and his sidekick Bert Newton, and again I recall them saying Denzil was mixed up in this — we would sometimes see Bert visiting next door.
The hugely popular magazine "The TV Times" was the bible for television watching, as it was the primary program guide and covered all the "celebrity" gossip and stories of the early TV stars and shows, including the Tarax Show and its cast, especially Gerry Gee.
My Part in The Adventures of Gerry Gee
So when I was about 9 years old (1959) and in Grade 4, it was all a bit surprising to suddenly find myself working with Denzil on a new TV series about Gerry Gee which was to be part of the Tarax Show — a series to be called "The Adventures of Gerry Gee". Each episode lasted about five minutes and, as far as I was concerned, was only ever filmed on a Saturday. Generally this meant getting up quite early and being "on set" all day until Denzil deposited me back home.
My job was to act as Gerry Gee's double for all the long distance and "action" shots. I wore a latex mask fashioned to resemble Gerry with a narrow slit for me to breath and two eyes holes. It was not a fun thing to wear, it smelt, could get hot and sweaty, hearing was difficult and worst of all I had difficulty seeing much except what was straight in front of me. Compared to today's creations it was very crude and certainly there were no close-ups! Not being able to hear sometimes created interesting situations when Denzil would give me a direction to walk down a path or some such as they filmed, but I sometimes just kept on walking well after the camera had stopped filming as I couldn't hear and didn't want to turn around in case I spoilt the shot. Eventually I would stop walking!
The series began on the Tarax Show in 1959 or 1960 and became a regular and popular segment. I remember that for the first season of shows it was pretty informal and my "pay" was a new Malvern Star bike. As the series progressed I was signed up with a child contract and was paid a few pounds with a formal GTV9 payslip and Dad had to put in a tax return for me!
Filming Days Were An Adventure
A Saturday's filming was always an adventure. Denzil would pick me up. I never knew where we were going or what the theme for the week's show was. Generally the crew was small, particularly when we were at an outdoor location — Denzil, a cameraman and maybe one or two others who might do sound work or just general helping. The cast differed every week but Ron Blaskett was nearly always there. During the day my acting parts were never long, I might do 5–15 segments, each likely no more than 10–20 seconds long and rarely more than one "take" was required, or so it seems to me now. I had plenty of time to explore, watch and try to stay out of the way. No-one looked after me and I often had the benefit of extras like free rides at Luna Park or exploring the back stages of GTV9 in Bendigo Street, Richmond.
I remember many of the individual shows, like the one shot at Mordialloc amongst the boats and with a crowd of a thousand or two on-lookers, another in the bush for "Tarzan Gee" when I got to swing between two trees and use a small flying fox. For another show on a farm, I remember sitting in a car that drove down a hill into a dam (the car was on a rope I recall) and then later my dragging Elaine McKenna out of a real burning hut (that was a single take shot).
Most shows were filmed at outdoor locations, however there were two much bigger episodes filmed in more elaborate sets at GTV9 and with a much larger cast of characters. One of these was the Arabian Nights adventure, "Ali Gee", filmed around an Arabian Bazaar set. The junior Tarax Show Dancers were there dressed as belly dancers, a carpet snake was part of the action, and I got to take a friend to be an extra for the marketplace bazaar scene. Another of the large set productions was the "Gerry Hood" episode when I was dressed in green and period costume with a sword fight and quite a big cast. I recall that even these larger productions were a one-day shoot.
You can see a gallery of photos from "Gerry Hood" here.
After all these years, much of the action and the parts played are all a blur. I did what I was told and was always keen to see the finished product shown on the Tarax Show, being very aware of what was going on "behind the scenes". I do remember sitting in a Formula One racing car at Patterson Cheney in Ringwood, "flying" a Cessna at Moorabbin Airport, dressing in purple and a top hat for "Pimpernel Gee", taking over Luna Park, using a house down the street for one episode and one story which required playing with a ham radio set.
Gerry Gee's Leading Ladies
Gerry often had a girlfriend in the shows and during the series I remember working with four of them, all junior stars of their time — Elaine McKenna was the first with Susan-Gaye Anderson next (about 21 years old at the time) then Patti McGrath (about 15 years old then) and the last one was Olivia Newton-John (a year older than me — about 12). It was a boast of mine in later years that "I have held Olivia Newton-John's hand".
The series continued for about three years and during that time Happy Hammond was replaced on the Tarax Show by King Corky (Geoff Cork). King Corky and I (as Gerry Gee) were once part of a Moomba Parade and I remember it being difficult as I had the mask on for a couple of hours and it become very hot and uncomfortable by the end.
Memories of Another World
Overall I am amazed at how easy-going and simple the whole process appeared, weekly Saturday shoots, Denzil doing everything, writing, producing, directing and, I think, most of the film editing. The stories were all a bit corny, and the sets and costumes very pantomime-like, but it worked and the series and Gerry Gee were extremely popular amongst kids and parents alike.
Stories about the Tarax Show and "The Adventures of Gerry Gee" would often feature in the press and the television bible, TV Week. I did two TV Week stories and several for local papers. Today, looking at these stories, I am surprised at how young I look and how it feels like being from another world.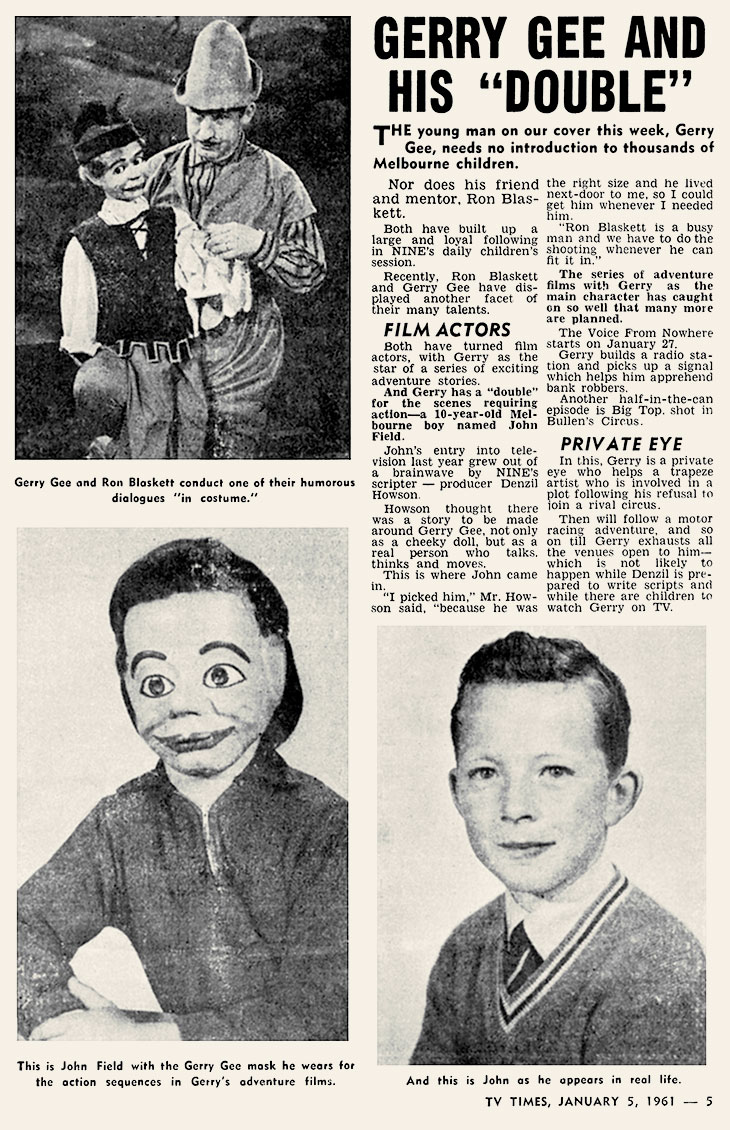 Both at the time and looking back on those days, it does feel unreal. I was just a 10–11 year old going to primary school and didn't see this as too special, just some fun and a lot of adventure. I sort of kept it quiet from other kids. Occasionally a teacher might see an article and ask me about it and my fellow actors.
Denzil was so heavily involved in television, both in playing character roles, producing and anything else that came up. It's hard to imagine how such a role might work in today's Television, Film and Theatre world. A steady stream of well known faces would be in and out of next door. Pioneers such as Denzil seemed to have so much fun as they tried anything and everything.
John Field
June 2013